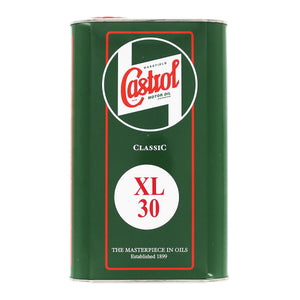 For veterans, classic cars and pre-1950 classics. A high quality SAE 30 Monograde engine oil that is also used in most types of manual transmissions for vintage and classic cars. Also specified for pre-selector type gearboxes. Provides excellent cold temperature starting and improved oil pressure at high operating temperatures. This in a nice retro look tin.

Density @ 15C, Relative: l 0.888g/m
Viscosity, Kinematic 100C: 11.1mm/s
Viscosity, Kinematic 40C: 99mm/s
Viscosity Index: 97
Pour point: -21C
Flash point, PMCC: 226C
SAE Viscosity Grade: 30

Please note that metal cans are susceptible to dents during transport. Although these products are packed very carefully by our team, there is no guarantee that there will be no dents during transport after departure from us.