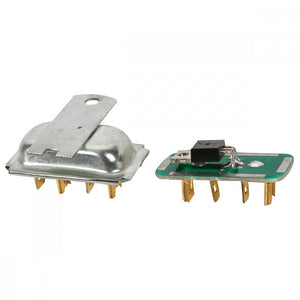 Application:
- MGB & MGB GT (1962-80)
- Sprite IV & Midget III-1500 (1967-79) From (c) G-AN4-60460 to (c) G-AN6-200000, from (c) H-AN9-72041, (c) H-AN10, (c) A-AN10, 1275cc
- Triumph TR4-4A (1961-67)
- Triumph TR5, TR250 & TR6 To (c) CR1/CF1 (1967-72)

New gauges introduced by Smiths in the 1960s were based on bimetallic heating elements; the needles of the fuel or temperature gauge drift up off the lowest reading slowly when the ignition is turned on. These new gauges required the addition of a voltage stabilizer. The original Smiths voltage stabilizer is a mechanical device that reduces battery voltage to a steady 10 volts; however, over time they fail for a variety of reasons.