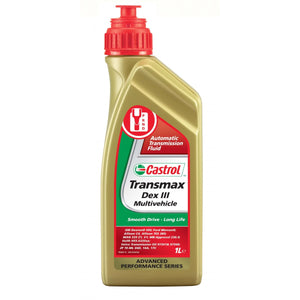 Castrol Transmax Dex III Multivehicle is designed for use in GM automatic transmissions pre 2005 and Ford automatictransmissions built between 1983 and 1996 where Dexron (II or III) or Mercon are required.

This product is approvedfor use in Allison heavy duty transmissions against TES 389.

It is also approved for use in a wide range of european heavy duty automatic transmissions.

It may be used in some power steering units. NB: Do not use where MERCON V,

MERCON SP or DEXRON VI is required.

Advantages

Multiple manufacturer approvals make it suitable for wide ranging use.

It is specifically formulated for high thermal stability and resistance to oxidation which protects against theformation of deposits and oil thickening prolonging the life of components and lubricant.

Optimised friction characteristics provide smooth shifting and efficient power transfer.