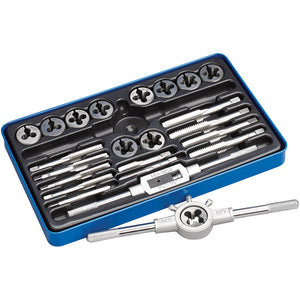 For automotive and general mechanical workshop use this 24 piece tap and die set,
made from high quality tungsten steel, will serve to create and repair popular UNC/UNF/NPT threads.
Tap & Die sets contents:
UNF Sizes: 1/'"-28, 5/16"-24, 3/8"-24, 7/16"-20, 1/2"-20.
UNC Sizes: 1/4"-20, 5/16"-18, 3/8"-16, 7/16"-14, 1/2"-13
NPT Sizes: 1/8"-27
Dies: 1"OD.
Supplied with long adjustable handle tap wrench and die holder with knurled handle and three screws for adjustment.
Supplied in metal storage case.