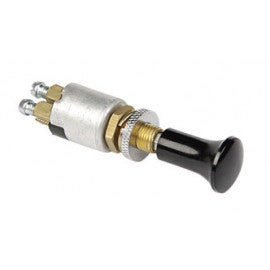 Interior, dash mounted switch that would be suitible for the following vehicles:
MGB, MGB-GT (TO GHN/D5-258000) ; YEARS 1962-1971.
MGC, MGC-GT ; YEARS 1967-1969.

The switch is dash mounted and has a simple push, pull on/off action. There are 2 screw connectors to the rear and it is supplied with inner nut, lock washer and outer chrome bezel to attach it to the dashboard. There is also the black plastic knob included which can be removed if desired, there are no markings or decals on the knob face.