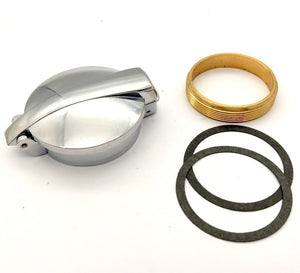 Universal use.
This is copy of one of the best looking gas caps you will ever add to you car.
Polished chrome with a flare.
The "'flip top' and 'push button' opening cap was made famous by some of the most historic cars ever raced at such
famous tracks as 'Monza' and 'LeMans'.
The design was conceived for function not looks- it allowed the racer to fill the gas tank faster.
The actual cap screws onto a special brass adapter that is a tight press fit onto the neck of the tank but should be glued
for safety. To fit the collar for this cap you will require 10mm (0.3937") just over 3/8" of petrol tank neck accessable
above the body seal to allow fitment,many later cars do not have this much neck protruding so check first.
Neck size 2 1/4"(57mm).
This cap does not accept a locking cap.

If you require a cap that takes the genuine locking cap see SP227.