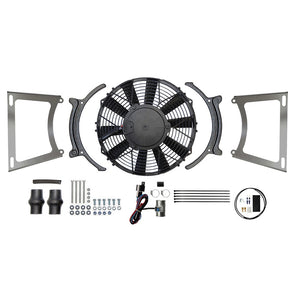 Revotec cooling kit.
Keeping your car's engine running at optimum temperature will ensure you get the best performance and economy.
Using the latest high efficiency fans with adjustable electronic controllers these kits are designed to replace the standard original mechanical fan, reducing the load on the engine, noise and improving both power and mpg.

Unlike other fan kits that use a universal mounting system, these Revotec kits have bespoke laser cut brackets that mount directly to the radiator mountings.
The brackets are anodised to give a smart appearance and prevent corrosion.
The kits also use a precise electronic controller to enable easy adjustment to suit your car.

Suitable for: MGB 62-76.
Polarity: negative earth.

Kit Contains:
*10" High Power Blowing fan = sku : RV-FAN0221
*Laser cut aluminium fan mounting brackets
*28 mm Revotec Electronic fan controller = sku : RV-EFC28
*Top hose replacement kit
*Earth wire kit
*Bolts & fittings
*Fitting Instructions

Please note: Revotec Retrofit cooling kits are designed to work with standard unmodified vehicles.