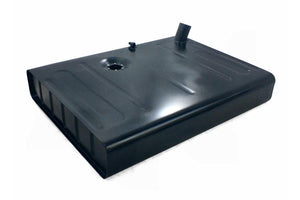 Petrol tank for Austin Healey 3000.
Material: steel.
Technical drawing: nr. 2.

features:
*Zinc plated steel for rust and corrosion resistance.
*High quality welds.
*Correct dimensions and shape.
*Proper placement of the brackets for the mounting straps.
*Filler neck placement and angle.
*Fuel outlet size and orientation.
*Properly tapped and spaced holes for sending unit.
*Bung for drain plug threaded to accept the OE plug.