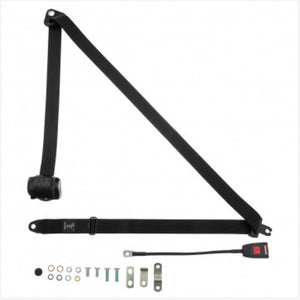 Securon 500/45 retractable inertia seat belt, suitable for lap and diagonal front seats. The buckle is on a 45cm length of webbing and the main belt section is 314cm end to end with a retractor that has to be fitted vertically with an incorporated pillar loop. The buckle is twin release so can be opened with a button on the top or on the side.

Securon is Britains leading manufacturer of seat belts and safety restraints, with all products made in the EU and designed to comply with EC and international standards.

Fits on: 100-4, 100-6, GT6, HERALD, MGA, MGB, MGC, MIDGET, MINI, MINOR, SPITFIRE, SPRITE, STAG, TA, TB, TC, TD, TF, TR2, TR3, TR3A, TR4, TR4A, TR5, TR6, TR7, TR8, VITESSE, XJ-S, XK120, XK140, XK150

Please Note: Images are for illustration purposes only, actual product may vary slightly.