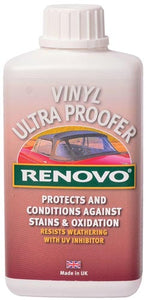 Renovo ultra proofer re-establishes the waterproof barrier for fabric hoods and helps maintain the condition of vinyl hoods.
Mould, mildew and UV resistant.
Use to waterproof and condition your vinyl convertible roof against stains and oxidation, this soft top treatment also contains a UV inhibitor to help reduce colour fade.
Before applying Vinyl Ultra Proofer we recommend using Renovo Vinyl Soft Top Cleaner according to the heavily soiled instructions on the bottle to thoroughly clean your hood.

Renovo Vinyl Ultra Proofer will help to prolong the life of your vinyl soft top, by preventing the accumulation of grime. This helps to maintain the original showroom finish and therefore enhances the value of the car.